Jumping dolphins!
Oh, another one...
Weeeeeee~!!!!!! Hahahahaha!!!
Hell, yes! I am excited! WHY? hehe... Let me tell you the beginning of today's tale first.
It's Friday and you guys know that I don't have any class starting from Friday to Monday, right?
yeah, yeah... don't be jealous! Hehe
Other than replenishing my 'How I Met Your Mother Moments with Barney' supply, I pretty much didn't do anything. Right, Barney?
Watching one of my favourite episode, where we learn how to 'plot' a 'graph'...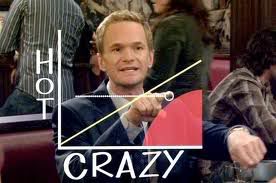 Oh, complementing this one is Season 4's 22nd episode, 'Right Place, Right Time Episode' where Marshall had addiction with his awesome charts... :D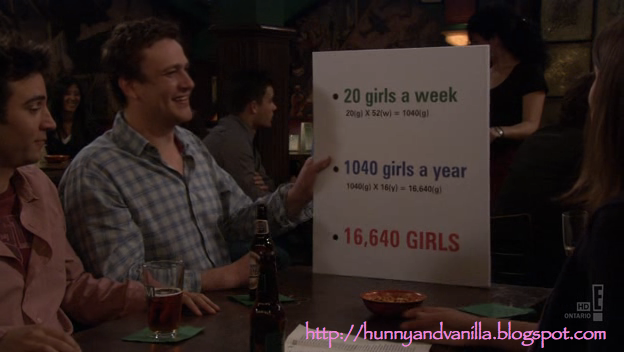 and this...
Of course, this...
This, too!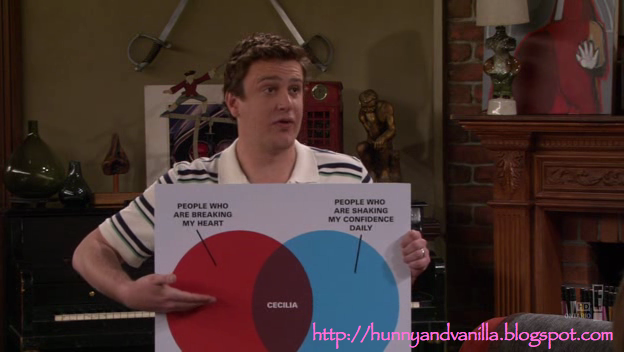 Wait for it, this one...
Not forgetting...
But of course, you guys know where this leads, right?
Oh, Marshmallow....
Wanting to go out but it's okay, I love my room today. =)
I went for Math tutoring at the library from 4 to 6, but decided to continue for another hour after dinner when I got an awesome text from my lil' bro. It seems that I forgot something.
My parents and lil' bro are coming tomorrow!
Which is why I decided to finish the first 2 chapters with the girls as I don't want to be disturbed until Monday. Sorry girls, but this is once-a-year-thing.
When I got back in my cube, I cleaned the room right away. After that, I did the laundry and arranged my stuffs on my shelf and on the desk. When I'm done, I'm feeling tired a bit. But I don't care.
Grab few books, started to read something. Tried to read a thing. I can't focus. So, I online instead.
Surfing and surfing and surfing. Nothing can ease my mind. Unconsciously, I'm planning this and that.
Look at me! I'm just too excited! haha I miss my parents so much! Well, lil' bro is just plus... Kidding! he just finished his PMR so this is kinda a reward for him...
Anyway, it's almost 5 in the morning and their flight will be arriving at 10.
Only now I'm feeling sleepy. :)
Okay, people. Wanna hit the bed and wake up in few hours.
Weeee~!!!