I guess there are many people out there who are into Korean movies like moi.
Well, that's a boring statement.
Let's go again.
I guess there are many people out there who can't let a weekend go by without enjoying South Korean entertainment such as movies like moi.
Another boring statement. Haha :D
Anyways, since this is the first week of my so-called summer vacation, I'm calling for a Korean horror movie marathon. Yay! I don't know why I was damn excited. Oh, by the way I just finished final exam last week.
So, let's continue with the top-of-the-list movies, shall we?
First, the most famous Whispering Corridors series.
Whispering Corridors (1998)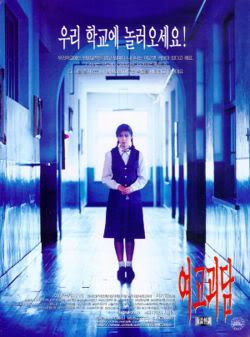 Basically, all the five movies are set in typical Korean high school. This first installment tells about the harsh Korean education system. Of course, there's friendship, being the main theme for all five movies. Since this was filmed back in 90s, even the slang is quite different.
Whispering Corridors: Memento Mori (1999)
This one is a bit... Well, there's one issue being featured in this movie that was depicted for the first time in Korean movies. Wanna know? Check out the movie. With your mind being opened.
Whispering Corridors: Wishing Stairs (2003)
Song Ji Hyo and Se7en's girl, Park Han Byul. Friendship, betrayal, and ballet. Oh, I checked out that Park Han Byul went through crazy training for her role in the movie. Kinda like in Black Swan. But of course, Black Swan is way awesome.
Whispering Corridors: Voice (2005)
This one set in a music school. Among the five movies, this one is my fave. There's personality disorder, and student-teacher relationship. Like in Memento Mori.
Whispering Corridors: A Blood Pledge (2009)
As for this one, it was filmed in a convent high school. All girls. I think this one has the most interesting plot. When arrived to some point of the movie, I was like, what??? Why??
Okay. So that's one part of my top Korean horror movies. I'll continue in part 2, for romantic movies.
See you!