After I'm done with the first 6 hours long driving lesson, I asked my driving instructor to drop me at the nearest bus stop so I could go to KL Festival Mall. One, to check out TheFaceShop anniversary sale and two, to watch a movie in a cinema I never been to which is MBO.
When I arrived at the ticket counter, there's only one movie I want to see.
Yes, it's the "Insidious: Chapter 2".
I watched the first movie back in 2010 I think and whenever I recalled that movie, I get chills on my neck. It is that scary.
So when I watched this sequel today, it's inevitable to have certain expectations and whatnot. Is it gonna be scarier, what kind of ghost this time around?
Basically, "Insidious: Chapter 2" picks up where the story ended, but to me the sequel has enough humours and scary scenes, and of course its own story to stand alone. If you haven't watch the first movie, it's okay. You won't be clueless.
At the beginning of this movie, Patrick Wilson (as Josh Lambert) and Rose Byrne (as Renai Lambert) return as parents of three kids, who decided to move into a new home which is Josh's mother's, Lorraine Lambert (Barbara Hershey) house, after worrying and fearing their own house was haunted.
Dalton Lambert (Ty Simpkins), the eldest child who has recovered from a mysterious coma, but apparently he's still haunted by nightmares. Not only that he sees dead people, those ghost want something from him.
In this movie, it has been revealed what Josh had gone through in his younger years as a haunted child.
Watching this part makes me recalled what I saw in "Inception". I think this is first time for me to ever experience a supernatural time travel in a movie. Last time I saw this kinda thing is when Dean learned about how his parents met hence the Yellow-Eyed Demon complications, in Supernatural.
The ghost hunter, Carl (Steve Coulter) who collaborated with the ghost specialist Elise (Lin Shaye) that helped Josh back in his younger days, came to see Lorraine and hence the most disturbing (to me) series of events happened in the old mansion has begun. Why? Because one of the scenes in horror movies that I find really scary is when dark hallways are being explored with merely flashlight.
By the end of the movie, I came to understand the first movie more. I think it's a nice feeling when the family is back together for real this time, with no crazy ghost around. But, like the first movie, "Insidious: Chapter 2" leaves us the viewers an open possibility. Whether is there are bigger story or will Elise, Specs and Tucker discovered another crazy ghost? We'll see that in Chapter 3.
Rate: 3.5/5
*******
Some merchandise I got for free! Excited to see Chris Hemsworth, yet?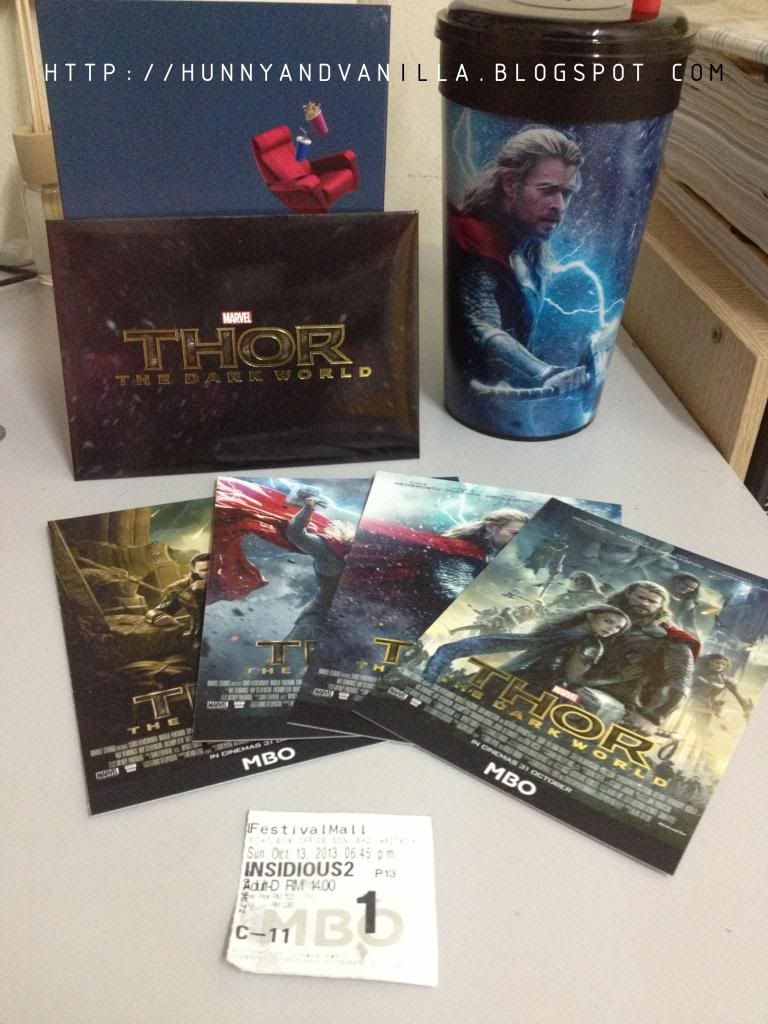 Signing out!