I'll be having Pre-Calc paper tomorrow and Computer paper on Friday...
So, I was planning to stay in my room and study Pre-Calc the whole day. But when I woke up this morning, my roommate, K came to my room and the first thing she said is
"We need to go to Starbucks today and study..."
when I looked at my watch, it's just around 7 in the morning and there's no way I can study in Starbucks cafe! Let alone in a shopping mall!
But my roommate kept on insisting to go and I said, what the hell. I've studied a lot already... and it's Pre-Calc! The questions are definitely gonna be freaking hard anyway.
So, I hit the shower around 9 and we took the cab around 10 and reached Alpha Angle shopping mall (best known as JJ Wangsa Maju) around 10.30. When we entered Starbucks cafe, no other customer sitting anywhere and most of the staffs are still having morning meeting.
A barista greeted us at the counter and we ordered right away. While ordering, my roommate told me that the Starbucks cup she bought early this semester broke last week and she need a replacement but I suggested for her to buy the tumbler instead. She was like asking what's so special about the tumbler and the barista in front of us was making faces. Because of that I have to argue that the tumbler is so cute and we can get discounts every time we buy a beverage!
But then, I was so surprise when my roommate actually went to the shelf and took one! It's not even for her but for me! OMG! I was so happy!
For the rest of the story, I'm gonna let the pictures do the talking!
'Breakfast in Starbucks'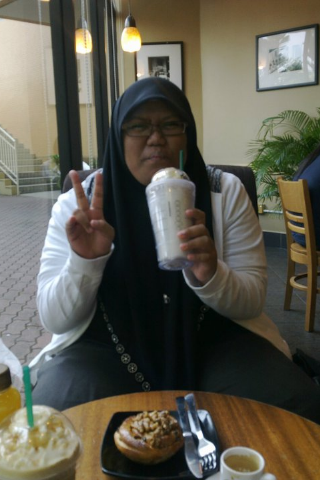 Thanks for the tumbler, babe!
"I'm so happy for getting what I want! Been wanting to come here for weeks already!" -K
Orange juice, Caramel Cream frappucino with 2 shots of espresso, a butterscotch-roll (inspired from cinnamon roll I think), my favourite Vanilla Cream Frappucino with caramel syrup, and last but not least, a chocolate roll with sugar on top...
But do you guys know what else we have as a meal?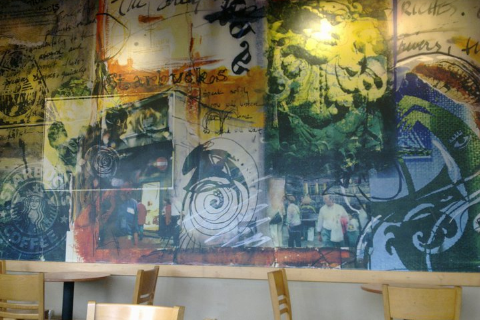 K noticed this on the wall of the cafe... Beautiful, right?
Around 1 o'clock, we went out of the cafe to get some lunch and I decided to try Papa Johns Pizza and it was delicious!
Next, we went to Jusco as K wants to do some shopping for her little brothers and sisters as she's going to Dubai this Saturday and meeting up with those kids who just spent their 2 weeks vacations in Paris. She bought them some cute bags from Girls, Giordano t-shirts, and Vincci shoes for her big sisters. She also bought a handbag for my other roommate, Imah as a going-away present as Imah will be going to Kuantan campus to pursue Biomedical Science.
We're done around 4 and though we were actually planning to do more studying after done with shopping, we decided to go back right away as we're already tired going here and there...
Alright, peeps! Going to continue to do some revisions on Pre-Calc. Wish me luck tomorrow!
xoxo,
V