I was told that the Computer class is cancelled after I reached the class 15 minutes before the class should start. The instructor was sick or something. Even though she promised that she'll post everything on her site if there's anything she wants to inform us regarding the lectures so we won't find ourselves frustrated seeing the "Class is Cancelled" note taped on the lab's door.
Anyway, I decided to go for a stroll around the campus since it's just 8.30 in the morning. Even the breakfast sold in the cafeteria are still hot. After I had my breakfast at Human Science faculty's cafe, I head to the library and while I was passing the Mini Auditorium, while I was contemplating about the Medical Science books that are still occupying the university's main library though students in Kuantan are in desperate needs to utilize all the sources available for their course works or whatsoever, a woman greeted me and gave me a pamphlet about a program they are having right now. She's a staff from our Counseling Services Centre which is known as Censerve among the members of this university.
As for this semester, they're gonna do this program that initially aimed for International students (I don't prefer to call them as foreigners cause I don't like that term to be used against me if I were one of them). But, they were rumors circulated around the campus that the university won't be offering this short semester and therefore a lot of students who intended to stay during this semester and do some subjects went home and enjoying their 5 months vacation as for now. Hence, the committees of this program decided to open the program for all the students - including a Malaysian like me (not so Malay-like though).
Having free time and done with homework, so I guess I could attend this program. So I did.
The program, entitled "Workshop on Self-Empowerment", a 2-days program (today and tomorrow) that consists of 5 main slots that include forum, movie presentation, and talks. For today, we were having a forum in the morning and a movie - 2000's 'Remember the Titans' in the evening.
First the forum, the main topic is "Surviving at a Dreamland". There were three panelists as usual and the moderator is an international post-graduate student from Bangladesh.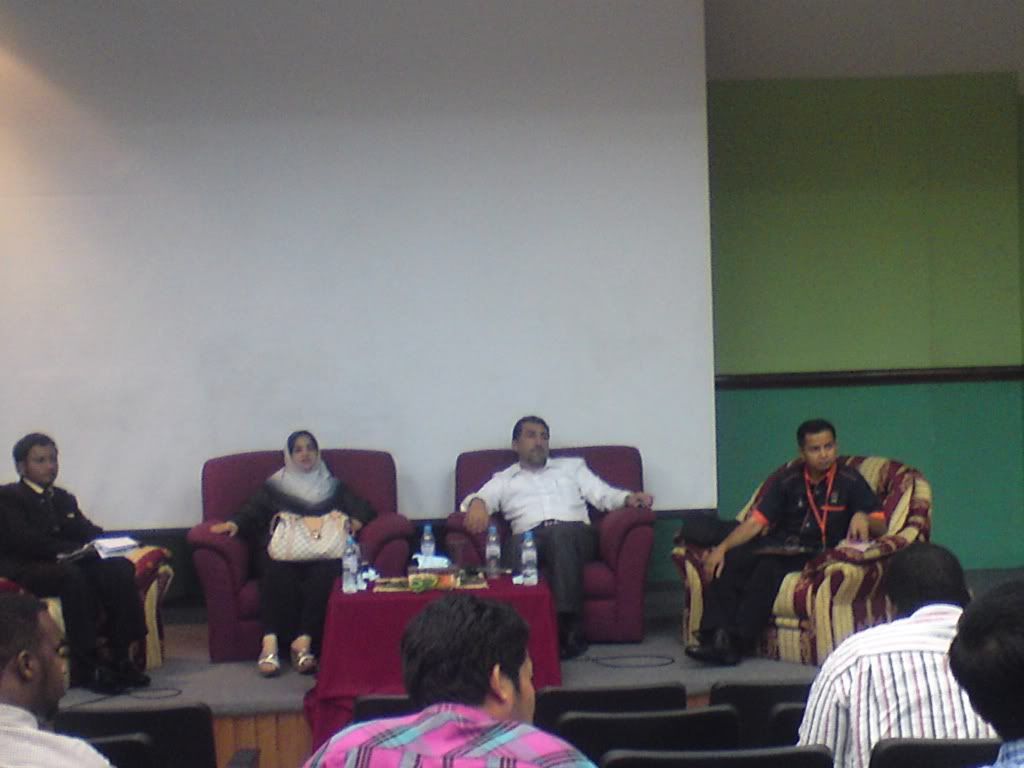 The first panelist, Datin Umme Aiman Siddiqi, working as a Project Manager in JICA, grew up in Tokyo, Japan and been living in Malaysia for 18 years. The question was about difficulties that she faced throughout the early years she spent in this country. Basically, it's all about experiencing new culture, coping with the environment, and of course studying at the same time. She used to complain about the food, a Pakistani who always eat her country food so she is grateful for having some Indian food around the campus. One thing that she highlighted about the culture is when she swore that she would never wear a Baju Kurung like Malays after having a debate about the best and most Islamic apparel ever with her roommate. Some people would say that is the most stupid thing ever to, to talk about even. But, me myself have experiences about this whole thing about Baju Kurung. With international friend of course.
She said one of her major issue is changing her mindset on how to handle this whole thing about studying in this country. She said she used to think that it's unfair as people don't want to change for her. But when she finally embraced the fact that Malaysia won't change for her, and when she begin to learn the language, she said a lot of doors being opened for her. At first she was irritated when people are staring at her because she doesn't look like from around here, when people asked what's she been doing as a part of everyday conversation, and other things. Then she realized that all of these things that Malaysian do are the things that out of courtesy. Like saying "It's a pleasure to know you" after getting to know with someone new.
All in all, it's all about your efforts to understand each other. The commons, the differences, and tolerating with all of these.
The second panelist, Assoc. Prof. Dr. Wahabuddin Shahibuddin Reiees, from Afghanistan, a faculty member of our Kulliyyah of Islamic Revealed knowledge and Human Sciences.
He said the first few months was hard. He was among few young students that had been invited by our former Prime Minister Tun Dr. Mahathir himself to study in Malaysia while on his trip to visit the Afghan refugees back in '83. So he came to Malaysia for the first time to study in our CFS (known as Matriculation during his days), studied English and eventually did his Degree, Master and Phd. One of his memories during those days in Matric was spending the 'Eid with his Malay friends. He also talked about how he kept on focusing in his studies knowing about the wars raged in his country.
The third panelist was a funny guy from Burma. He's a graduate from our IIUM and currently working as a lecturer in UiTM. He said either to sink or swim. Unlike some students who still have the audacity to go back to their home countries even after their parents spent a lot of money for them to come here to study (sounds familiar to me), he said to himself that there's no way he would back out of the deal he made with his parents. It's amazingly funny how he expressed his time learning the language and he also talked about his great times spent with his local friends.
When we're done with the forum few students came out and share their experiences with the audiences so all in all, I think this program was nice. You need to step out from your busy life and had some sharing moments with your friends to remind you who you are and and what have you become as of today.
Well, there are few things that I want to talk about, one of them is taking this program in a different view like as you guys already know, this program mainly discussed about the life on international students, their struggles, their problems and difficulties, right? What about us? The ones who are looking at these people,the ones who are living with these people? How do WE cope with them?
So, I think I'm gonna post about that in the second part of this entry...
P.S.: the souvenirs from JICA is nice. Love the colour.