Being apart of East Malaysia is always something that I'm proud of. Though I've lived in KL for almost 10 years and I do speak KL slang rather fluently, I still live like any regular Sabahan girl who love ambuyat (traditional Bajau-Brunai dish) and of course not forgetting, celebrating the fact that within one state, all kinds of people who grow up with many cultures since birth, multi-religion, all kinds of colours, can live peacefully.
If you didn't know, Tadau Kaamatan which means Harvest Festival is celebrated by Kadazan-Dusun people in Sabah throughout May even though it's actually falls on 30th and 31st of May which are Public Holidays for Sabah. The highlight of the fiesta is definitely Unduk Ngadau or beauty pageant.
So that's briefly about Kaamatan but as I don't really celebrate this festival being Bajau myself and of course, most events during this festival involving alcohol so to be perfectly honest, I never go to any of the event. I usually just catch up with the morning paper of 1st June, who won the beauty pageant contest. haha typical
Anyway, this year Starbucks Malaysia has released a limited edition card just for Kaamatan and Gawai (Sarawak's version of Kaamatan for lack of a better expression) and its definitely something I wouldn't miss for my Starbucks trading card collection but that's not all! For the first time for Starbucks Malaysia, they're also giving a complimentary Starbucks Card Album with the purchase of 12 Grande or Venti handcrafted beverages with Starbucks card. From 16th May till 15th June, go and have 12 awesome choices of beverage of yours and collect one album from the Partner at the store, after you received that shining gold star in your Starbucks Rewards account.
I got mine within 4 days as I was rushing before I headed back to my mum's hometown in Sandakan where there's no Starbucks cafe available so thank God as I managed to score one album!
It's about A5 in sized and housed like 30 cards. Black and gold? Totally my thing!
The inside leaf is velvety, carved with Starbucks Malaysia 2016. Totally reminds me of last year's Summer travel pouch.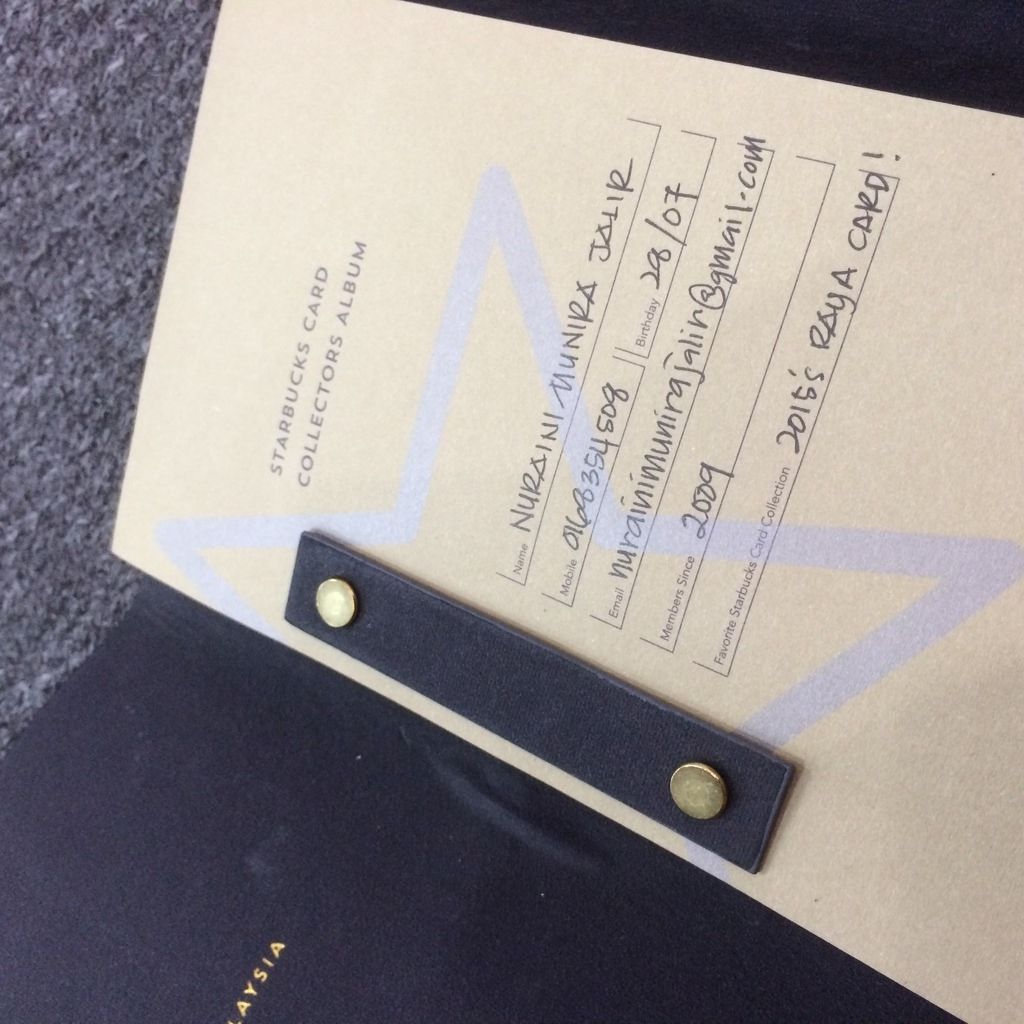 The first page is like Starbucks planner's where you can fill in your personal details. The plastic pockets for the cards are sealed with 2 golden screws so if you can manage to find similar pockets, you definitely can add some more!
These are the cards I collected for this year of 2016. Beginning with the Tribute Card - which was released last year in the US along with that Anna Sui's limited edition card, then the Chinese New Year card that comes with red packets.
Next, the Thank You card, just another regular Starbucks card, then the first release of Spring Card.
Then, there's the supposedly limited edition from Korea but it turned out that it's released in Malaysia as well. Next is the most expensive collection of cards I got this year, the Easter Egg cards!! So pretty though. Haha
Not forgetting, this year's basic Summer card. Supposedly, there's gonna be a limited edition Sunmer card called Wave but I still haven't got the slightest idea of how it's going to look like.
Finally, I got the latest card released this year, which is the Gawai card. The minimum amount to activate is RM50 so I got myself one to keep and 2 for trade.
So to all Starbucks card collectors out there this Card Album is definitely a must-have so grab yours and let me jnow what you think.
Last one!
Until next post! Toodles!