Okay. Okay. I can't wait to write a post about this movie!
So me, Mimi, Syira, Syamil and Omar went to Pavilion KL, right after our class by taking RapidKL LRT to KLCC and walk along the tunnel and closed walkways that connect the Golden Triangle.
We arrived at Pavilion KL at 6.15 p.m., rushed towards the theatre as the movie started at 6.30 p.m..
The starting of the movie was a bit slow but of course the montages of the little girls' drawing was kind of amusing in a way.
About the movie, I really love the graphic. The moment when the ghost turned back into her original self for few seconds was nice.
The whole movie is all about motherhood. For someone who's yearning for children but cannot, the case of Annabel, and not wanting to let go for the case of Edith, truly amazing.
To those teenagers or any one in general who abandoned their babies should really watch this movie!!!
For me it was just a little bit scary. The elements of surprise throughout the movie is kind of awesome. A friend of mine, no need to mention here, screamed at some part of the movie. Hehe. Guess horror movies aren't everyone's thing.
Right after the movie, we're all hungry (duh) so we decided to go to the Food Court at the LG floor. Me and Mimi went for Korean cuisine at Sam-Sam Restaurant.
The Japchae is so nice! The way the sesame seed oil mix with the sauce is awesome! Just melt in my mouth!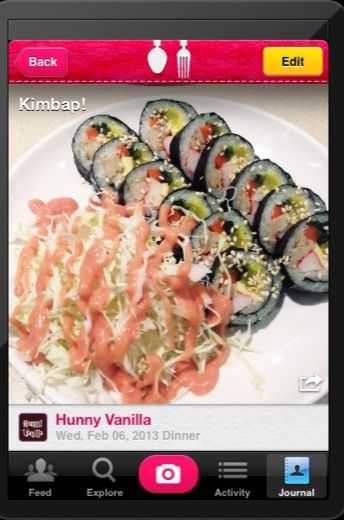 Me and Mimi shared this one. These taste nice. To balance the taste, have some cabbage on the side. That's wise. :)
While eating we tell each other's story, on supernatural of course. Hehe
Before walking back to KLCC, we stopped by at Guardian to pick up some toiletries and head back to campus right after. I was so exhausted by the time we arrived.
All righty. It's time to hit the sack. I'll see you guys on next entry.