It's been few years since the last time I celebrate my birthday. In 2014, I was so busy with Eid preparation and as my birthday fell on 1st Syawal that year, I only realized after we went to 4 or 5 house visits.
Last year was a bit crazy too as mum and dad were busy with their own projects and I had to babysit my baby nephew so we just went out to get cakes but only ate it like few days after my parents were done doing their stuffs.
As for this year, I feel kinda different as I celebrate my birthday in my office. Only one person who knew about it but everyone of course found out later~ Thanks for all the wishes, guys!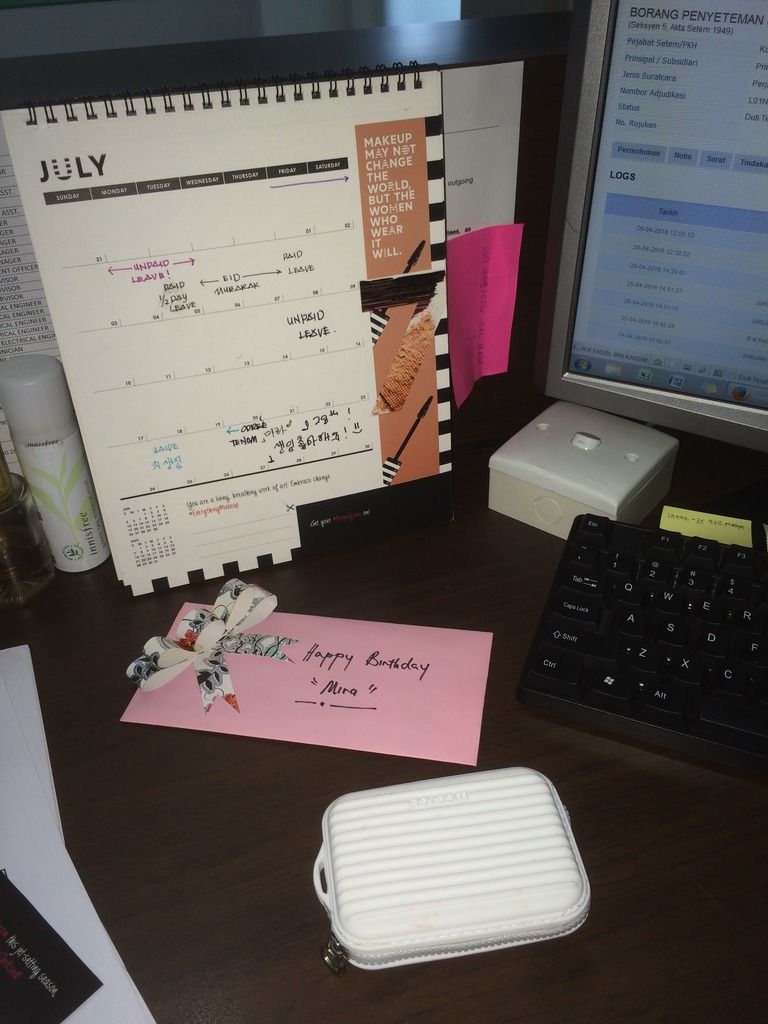 I was in tears for a little while for this really kind gift. The ribbon is handmade and she even handwritten her wishes. Ah~ so sweet! sorry for the cameo of my coin purse there.. haha
We bought some cakes during lunch hour but later around 3 p.m., Dad popped in at our usual hangout place i.e. Multi Bake downstairs so I grabbed some more cakes for us at the office. haha
After work, my lil' bro came to pick me up and we headed straight to Suria Sabah to have dinner at Sushi King, my all time favourite place. But before that, I went to Ogawa at Level 2 to pick up something, a gift for myself this year.
After dinner, we went to Golden Screen Cinema (GSC) to watch Jason Bourne. I haven't watch the first 3 movies but this movie is awesome to me (big fan of action movie here) with the fight scenes, explosions and whatnot.
So I guess that's all about it! I'll see you guys next post! Au revoir~